Large Scale Structure
in the Local Universe
T. Jarrett (IPAC/Caltech)
updated: Aug 08, 2013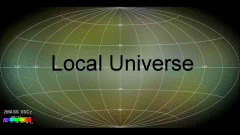 The 2MASS XSCz is an allsky near-infrared galaxy catalog that is derived from the 2MASS Extended Source Catalog (XSC), with redshifts that have either been spectroscopically (e.g., SDSS, 6dFGS, 2dF, Zcat) measured or derived from the 2MASS photometric measurements. The 1 million or so galaxies that comprise the XSCz extends to a redshift of z=0.2 (K < 14th mag) for luminous galaxies, but is most complete at the bright end (K < 12th mag) where accurate radial velocities are included for most galaxies. The following images show aitoff (equal-area) projections of the local universe as viewed in the Galactic Coordinated System (Milky Way at center).
A pure spectroscopic redshift survey, the 2MASS Redshift Survey (2MRS), led by the late John Huchra, is a subset of the greater XSCz, with a K-band limiting magnitude of 11.75. For a look at the 2MRS allsky maps, click here: go to the 2MRS.
---
Composite views of the Local Universe
---
Redshift layers
---
Key Spectral Redshift Catalogs
---
Constellations projected in the Galactic System
---
Poster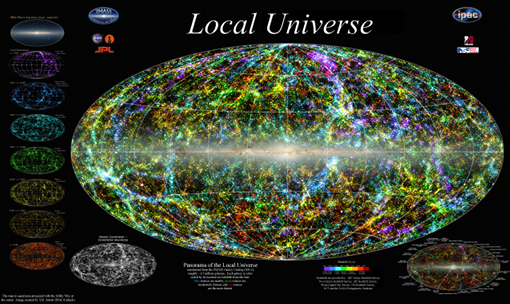 Putting it altogether in a wall poster.
Finder Charts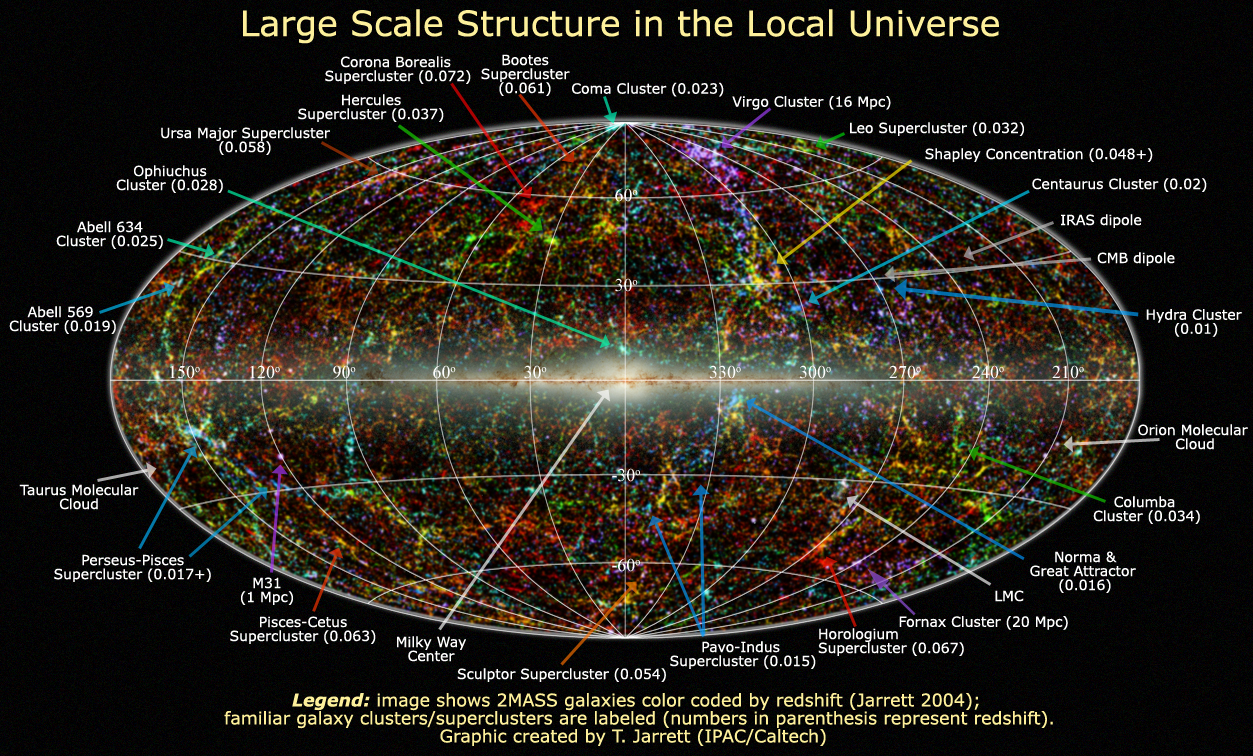 Find your way around the local universe Click here for a high-resolution version.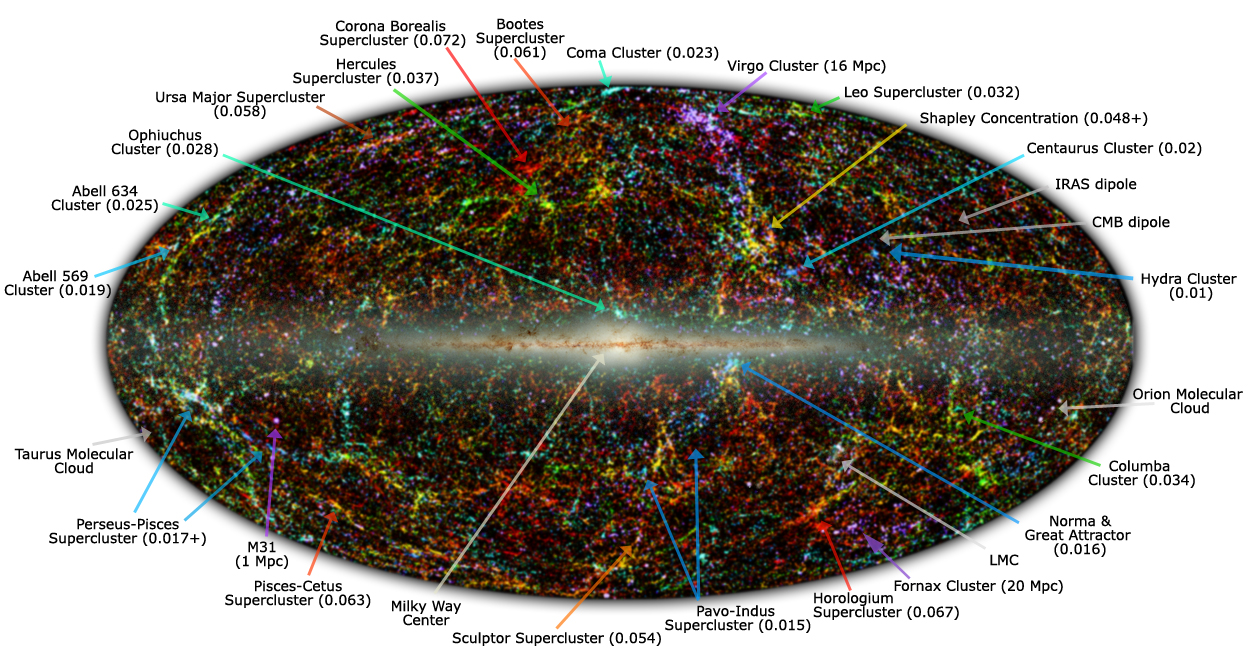 Version with Color on white reversal. The data shows the Two Micron Redshift Survey. Click here for a high-resolution version.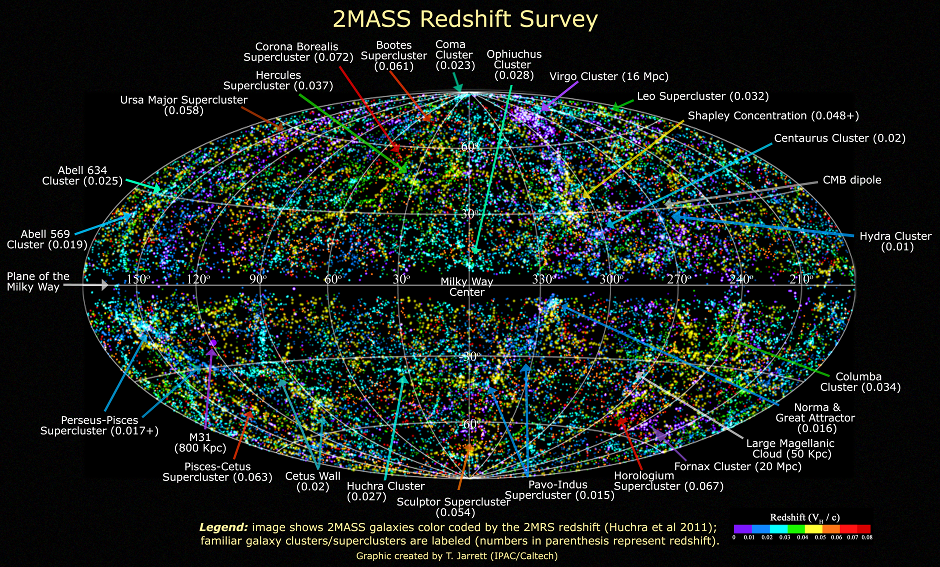 Finder Chart of 2MASS Redshift Survey (2MRS)
---
Statistics
---
Links
---
Special Acknowledgements
This work would not be possible without the crucial efforts of a number of people, including the 2MASS team, and notably John Huchra (Harvard), who was one of the founding fathers of modern redshift surveys and of 2MASS itself.

For many enlightening discussions, I'm very grateful to my colleagues: Joe Mazzarella, Harold Corwin, Barry Madore (NED), Will Saunders (AAO), Renee Kraan-Korteweg and Tony Fairall (UCT).

To the marvelous redshift surveys, including SDSS, ZCAT & 2MRS, 2dF & 6dFGS, LCRS, and of course, the RC3.

To the incredibly powerful databases, including the NASA Extragalactic Database (NED; see below) and Centre de Données astronomiques de Strasbourg (CDS; who provide the equatorial coordinates of the constellation boundaries).

This research has made use of the NASA/IPAC Extragalactic Database (NED) which is operated by the Jet Propulsion Laboratory, California Institute of Technology, under contract with the National Aeronautics and Space Administration.

---

back to Jarrett homepage